Ways Fake News Can Damage Your Online Reputation
The rash of proliferating "fake news" crossed the line.
A North Carolina man entered a Washington, DC pizza restaurant and began firing an assault rifle. His intention: to "self-investigate" a fictitious online conspiracy story involving Hillary Clinton. No one was hurt as customers were sent fleeting when Edgar Maddison Welch, 28, of Salisbury, N.C. walked into Comet Ping Pong and fired the rifle.
It started several days before the presidential election, when Comet Ping Pong's owner, James Alefantis, and some employees said they were threatened on social media after fake news stories sprung up claiming that Hillary Clinton and her campaign chief John Podesta ran a child sex ring operation from the restaurant. The owner vehemently denied this, and the news stories were confirmed to be false by the DC Police Department, The New York Times, and others.
This is horrible. But thankfully, everyone was safe.
But what about the aftermath?
Online Reputation Ruined
After the dust settles, think about something else: the online reputation of those mentioned in fraudulent reports, contrived stories and false rumors can be irreparably damaged.
A single tweet can proliferate, going viral, which can be picked up in newspaper articles and reports on television networks such as CNN, causing additional online reputation damage.
For example, see what now shows up in Google search results for, "Comet Ping Pong pizza."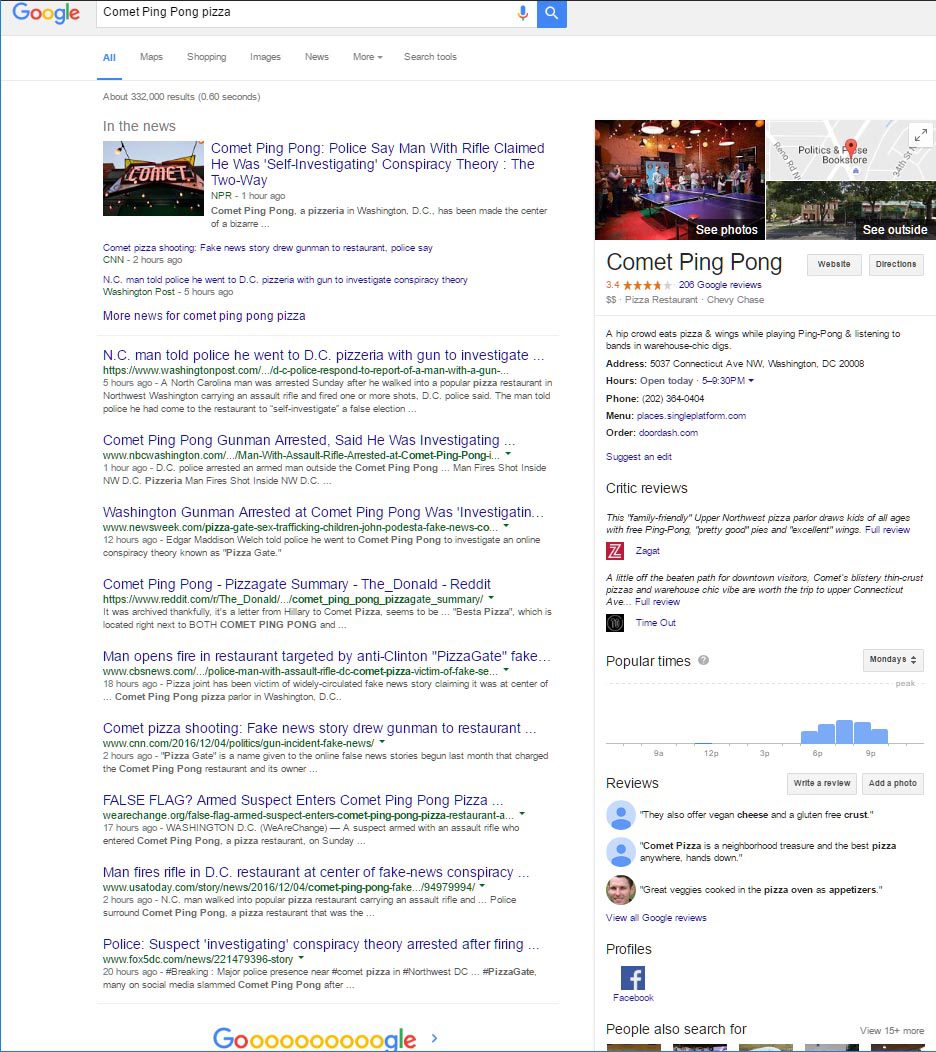 The first page, as well as ten pages and more, are filled with articles related to fake news reports or other articles. These push down legitimate reviews from sites like Yelp and Chowhound, which legitimately rated the pizzeria. Also, the fake and related links overwhelm real information about the restaurant. The damage to the business can be devastating in the wake of these fake news reports.
Ways Fake News Ruin an Online Reputation
There are two main ways fake news can damage an online reputation.
First, the false reports appear real, turning potential clients and sales away. Just one negative article can result and lost business and sales (see, "Why Online Reputation Management is a Great Return on Investment"); if more than one appears in a Google searches, the business can be in risk of going under.
Second, the negative articles push down the real information about the business. This makes it hard for clients, patrons or visitors to find legitimate positive links about the business. Their website, LinkedIn profile, Wikipedia article, Twitter account, reviews, presentation or anything else that establish trust are suppressed. When this happens, the business essentially becomes invisible, especially if the real information becomes pushed off the first or second page of Google (since about 95% of all clicks occur on the first page).
So while fake news have an immediate and sometimes dangerous impact, the damage can linger for months or even years, ruining businesses' online reputation.
Image courtesy by Elizabeth Murphy from Alexandria VA, United States (Comet – NW DC) [CC BY 2.0 (http://creativecommons.org/licenses/by/2.0)], via Wikimedia Commons.